OFFICIAL COMPETITION VENEZIA 78
Jury: Bong Joon-ho (South Korea), president; Saverio Costanzo (Italy), Virginie Efira (Belgium / France), Cynthia Erivo (United Kingdom), Sarah Gadon (Canada), Alexander Nanau (Romania) and Chloé Zhao (China-United States).


-Parallel Mothers / Parallel Mothers, by Pedro Almodóvar (Spain, 120 '), with Penélope Cruz, Milena Smit, Israel Elejalde, Aitana Sánchez-Gijón, Julieta Serrano, Rossy De Palma –Opening movie
–Mona Lisa and the Blood Moonby Ana Lily Amirpour (United States, 106 '), with Jeon Jong-seo, Kate Hudson, Craig Robinson, Evan Whitten, Ed Skrein.

-Another world, by Stéphane Brizé (Francia, 96 '), con Vincent Lindon, Sandrine Kiberlain, Anthony Bajon, Marie Drucker
–America Latina, de Damiano D'Innocenzo y Fabio D'Innocenzo (Italy, France, 90 '), with Elio Germano, Astrid Casali, Sara Ciocca, Maurizio Lastrico, Carlotta Gamba, Federica Pala, Filippo Dini, Massimo Wertmüller

–The Power of the Dog / The Power of the Dog, de Jane Campion (Nueva Zelanda, Australia, 125′), con Benedict Cumberbatch, Kirsten Dunst, Jesse Plemons, Kodi Smit-McPhee
–The event, by Audrey Diwan (France, 100 '), with Anamaria Vartolomei, Kacey Mottet-Klein, Luàna Bajrami, Louise Orry Diquero, Louise Chevillotte, Pio Marmaï, Sandrine Bonnaire, Anna Mouglalis, Leonor Oberson, Fabrizio Rongione
–The hole, by Michelangelo Frammartino (Italy, France, Alemania, 93 '), with Nicola Lanza, Antonio Lanza, Leonardo Larocca, Claudia Candusso, Mila Costi, Carlos Jose Crespo
–Sundown, by Michel Franco (Mexico, France, Sweden, 83 '), with Tim Roth, Charlotte Gainsbourg, Iazua Larios, Henry Goodman, Albertine Kotting, Samuel Bottomley

–Official Competition / Official Competition, by Gastón Duprat and Mariano Cohn (Spain, Argentina, 114 '), with Penélope Cruz, Antonio Banderas, Oscar Martínez, José Luis Gómez, Nagore Aranburu, Irene Escolar, Manolo Solo, Pilar Castro, Koldo Olabarri
–Ilussions lost / Lost Illusions, by Xavier Giannoli (Francia, 144 '), con Benjamin Voisin, Cécile de France, Vincent Lacoste, Xavier Dolan, Salomé Dewaels, Jeanne Balibar, Gérard Depardieu, André Marcon, Louis-Do de Lencquesaing
–The Lost Daughter, by Maggie Gyllenhaal (Greece, United States, United Kingdom, Israel, 121 '), with Olivia Colman, Jessie Buckley, Dakota Johnson, Ed Harris, Peter Sarsgaard, Paul Mescal, Dagmara Dominczyk, Alba Rohrwacher
–Freaks Out, de Gabriele Mainetti (Italy, Bélgica, 141 '), with Claudio Santamaria, Aurora Giovinazzo, Pietro Castellitto, Giancarlo Martini, Giorgio Tirabassi, Max Mazzotta, Franz Rogowski

–Spencer, by Pablo Larraín (Germany, UK, 111 '), with Kristen Stewart, Timothy Spall, Jack Farthing, Sean Harris, Sally Hawkins
–Here I laugh, de Mario Martone (Italy, España, 133 '), with Toni Servillo, Maria Nazionale, Cristiana Dell'Anna, Antonia Truppo, Eduardo Scarpetta, Roberto De Francesco, Lino Musella, Paolo Pierobon, Gianfelice Imparato, Iaia Forte
–On The Job: The Missing 8, by Eric Matti (Philippines, 208 '), with John Arcilla, Dennis Trillo, Dante Rivero
–Leave No Traces / Let There Be Traces, de Jan P. Matuszynski (Polonia, Francia, República Checa, 160 '), con Tomasz Ziętek, Sandra Korzeniak, Jacek Braciak, Robert Więckiewicz, Sebastian Pawlak, Agnieszka Grochowska, Mateusz Górski

–It was the hand of god / The Hand of God / Was the hand of God, de Paolo Sorrentino (Italy, 130 '), with Filippo Scotti, Toni Servillo, Teresa Saponangelo, Marlon Joubert, Luisa Ranieri, Renato Carpentieri, Massimiliano Gallo, Betti Pedrazzi, Biagio Manna, Ciro Capano
–The Card Counter, by Paul Schrader (United States, United Kingdom, China, 112 '), with Oscar Isaac, Tiffany Haddish, Tye Sheridan, Willem Dafoe
–Reflection / Vidblysk, de Valentin Vasyanovych (Ucrania, 125′), con Roman Lutskyi, Nika Myslytska, Nadia Levchenko, Andriy Rymaruk, Igor Shulha
–Box, by Lorenzo Vigas (Mexico, United States, 92 '), with Hernán Mendoza, Hatzín Navarrete
–Captain Volkonogov Escaped / Kapitan Volkonogov Bezhal, de Natasha Merkulova y Aleksey Chupov (Rusia, Estonia, Francia, 120 '), con Yuriy Borisov

OUT OF COMPETITION – Fiction

–Dune / Duna, by Denis Villeneuve (United States, Hungary, Jordaian, Norway, Canada, 155 '), with Timothée Chalamet, Rebecca Ferguson, Oscar Isaac, Josh Brolin, Stellan Skarsgård, Dave Bautista, Sharon Duncan Brewster, Stephen McKinley Henderson, Zendaya, Chang Chen, David Dastmalchian, Charlotte Rampling, Jason Momoa, and Javier Bardem.
–The Mystery of Soho / Last Night in Soho, by Edgar Wright (United Kingdom, 118 '), with Anya Taylor-Joy, Thomasin Harcourt McKenzie, Matt Smith, Terrence Stamp, Diana Rigg, Rita Tushingham, Michael Ajao, Synnøve Karlsen
–The hidden child, de Roberto Andò (Italy, France, 110 '), with Silvio Orlando, Giuseppe Pirozzi, Lino Musella, Imma Villa, Sasà Striano, Tonino Taiuti, Gianfelice Imparato, Francesco Di Leva, Roberto Herlitzka – Closing film
–Human things, by Yvan Attal (Francia, 138 '), con Ben Attal, Suzanne Jouannet, Charlotte Gainsbourg, Pierre Arditi, Mathieu Kassovitz, Benjamin Lavernhe, Audrey Dana
–Ariaferma, de Leonardo Di Costanzo (Italy, Suiza, 117 '), with Toni Servillo, Silvio Orlando, Fabrizio Ferracane
–Halloween Killsby David Gordon Green (US, 105 '), with Jamie Lee Curtis, Judy Greer, Andi Matichak, Will Patton, Thomas Mann, Anthony Michael Hall
–The Catholic School, by Stefano Mordini (Italy, 106 '), with Benedetta Porcaroli, Giulio Pranno, Federica Torchetti, Fabrizio Gifuni, Fausto Russo Alesi, Valentina Cervi, Valeria Golino, Riccardo Scamarcio, Jasmine Trinca
–Old Henry, de Potsy Ponciroli (Estados Unidos, 99′), con Tim Blake Nelson, Scott Haze, Steven Dorff, Trace Adkins, Gavin Lewis
–The Last Duel, by Ridley Scott (US, UK, 142 '), with Matt Damon, Adam Driver, Jodie Comer, Ben Affleck
OUT OF COMPETITION – Nonfiction

–Life of Crime 1984-2020, by Jon Albert (United States, 121 ')
–Trenches, by Loup Bureau (Francia, 85 ')
–Journey In The Twilight, by Augusto Contento (France, Italy, 142 ')
–Republic of Silence, by Diana El Jeiroudi (Germany, France, Syria, Qatar, 182 ')
–Hallelujah: Leonard Cohen, A Journey, A Song, by Daniel Geller, Dayna Goldfine (United States, 115 ')
–DeAndré # Deandré. Story of an Employee, de Roberta Lena (Italy, 94 ')
–Django & Django, by Luca Rea (Italy, 97 ')
–Ezio Bosso. The remaining things, de Giorgio Verdelli (Italy, 104 ')
SPECIAL SCREENINGS
–La Biennale Di Venezia: Cinema at the time of COVIDby Andrea Segre (Italy / 44 ')
–The 7 days of Bergamo, by Simona Ventura (Italy / 65 ')
OUT OF COMPETITION – Series
–Secretos de un matrimonio / Scenes From a Marriage, by Hagai Levi (United States, 294 ') – (Episodes 1-5)
SHORT FILMS
–Plastic Semiotic, by Radu Jude (Romania, 22 ')
–Liang Ye Bu Neng Liu (The Night), de Tsai Ming-liang (Taiwán, 19′)
–Sad Movie, by Vasili (Myanmar, Netherlands, 12 ')
COMPETENCIA HORIZONS / HORIZONS

Jury: Jasmila Žbanić (Bosnia and Herzegovina) – President, Mona Fastvold (Norway), Shahram Mokri (Iran), Josh Siegel (USA) and Nadia Terranova (Italy).
–The great move, by Kiro Russo (Bolivia, France, Qatar, Switzerland) – (Photo above)
–The promises, de Thomas Kruithof (Francia) – Opening movie
–Atlantis, by Yuri Ancarani (Italy, France, United States, Qatar)
–White Building, by Kavich Neang (Cambodia, France, China, Qatar)
–The other tom, by Rodrigo Pla and Laura Santullo (Mexico, United States)
–Once Upon a Time in Calcutta, by Adita Vikram Sengupta (India, France, Norway)
–The Peackock's Paradiseby Laura Bispuri (Italy, Germany)
–Miracle, by Bogdan George Apetri (Romania, Czech Republic, Latvia)
–Pilgrims, by Laurynas Bareisa (Lithuania)
–The Falls, de Chung Mong-Hong (Taiwan)
–The hole in the fenceby Joachin Del Paso (Mexico, Poland)
–Amiraby Mohamed Diab (Egypt, Jordan, Saudi Arabia)
–Full timeby Eric Gravel (France)
–107 Mothersby Peter Kerkekes (Republic of Slovenia, Czech Republic, Ukraine)
–Vera Dreams of the Sea, by Kaltrina Krasniqi (Albania, Macedonia del Norte)
–Anatomy of Timeby Jakrawal Nilthamrong (Thailand, France, Netherlands, Singapore, Germany)
–Rhinoby Oleg Sentsov (Ukraine, Poland, Germany)
–True Thingsby Harry Wootliff (UK)
–You-Ohby Yuasa Masaaki (Japan, China)
HORIZONS / EXTRA HORIZONS
–Land of Dreams, by Shirin Nest, Shoja Azari (United States, Germany, Qatar) – Opening movie
–Costa Brava, by Mounia Akl (United States, Germany, Qatar)
–Mama, I'm Home, by Vladimir Bitokov (Russia)
–My Night, by Antoinette Boulot (Francia, Bélgica)
–The Girl Flewby Wilma Labate (Italy, Slovenia)
–7 Prisoners, by Alexandre Moratto (Brazil)
–The Blind Man Who Did Not Want to See Titanic, de Teemu Nikki (Finland)
–The Machine of Images by Alfredo C, by Roland Sejko (Italy)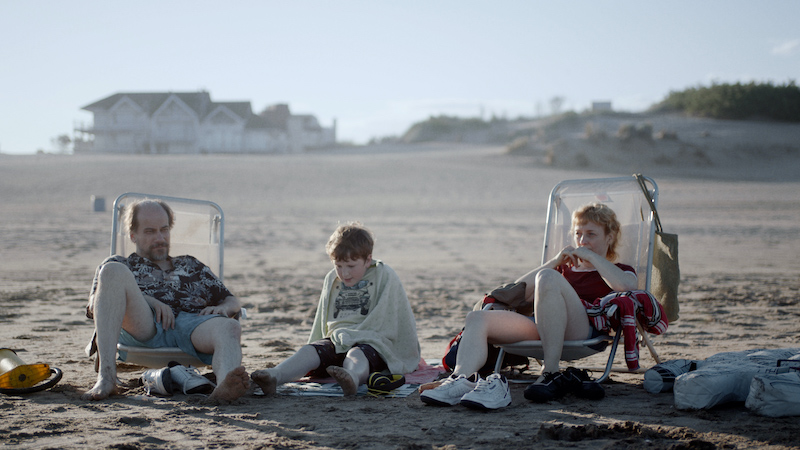 SECCIÓN PARALELA DAYS OF THE AUTHORS
-STONE NIGHT (DUSK STONE) by Iván Fund (Photo above)
Argentina, Chile, Spain, 2021, 87 ', World Premiere
With Maricel Álvarez, Mara Bestelli, Alfredo Castro, Marcelo Subiotto
– PRIVATE DESERT by Aly Muritiba
Brasil, Portugal, 2021, 120', World Premiere
-SHEN KONG de Chen Guan – Opera prima – Opening movie
Macao, 2021, 101', World Premiere
-AL GARIB (THE STRANGER) de Ameer Fakher Eldin – Opera prima
Syria, Germany, Palestine, 2021, 112 ', World Premiere
-ANATOMIA (ANATOMY) de Ola Jankowska – Opera prima
Poland, France, 2021, 108 ', World Premiere
-CALIFORNIA by Alessandro Cassigoli and Casey Kauffman – Opera prima
Italy, 2021, 78 ', World Premiere
CONCREAT (IMMACULATE) by Monica Stan and George Chiper – Lillemark – Fine Opera
Rumania, 2021, 114', World Premiere
-MADELEINE COLLINS by Antoine Barraud
France, Belgium, 2021, 105 ', World Premiere
Con: Virginie Efira, Quim Gutiérrez, Bruno Salomone, Jacqueline Bisset, Nadav Lapid
-TRES (OUT OF SYNC) by Juanjo Giménez
Spain, Latvia, 2021, 104 ', World Premiere
-TU ME RESSEMBLES (YOU RESEMBLE ME) by Dina Amer – Opera prima
Egypt, France, USA, 2021, 94 ', World Premiere
-LOVELY BOY by Francesco Lettieri – Closing film / Out of competition
Italy, 2021, 105 ', World Premiere
---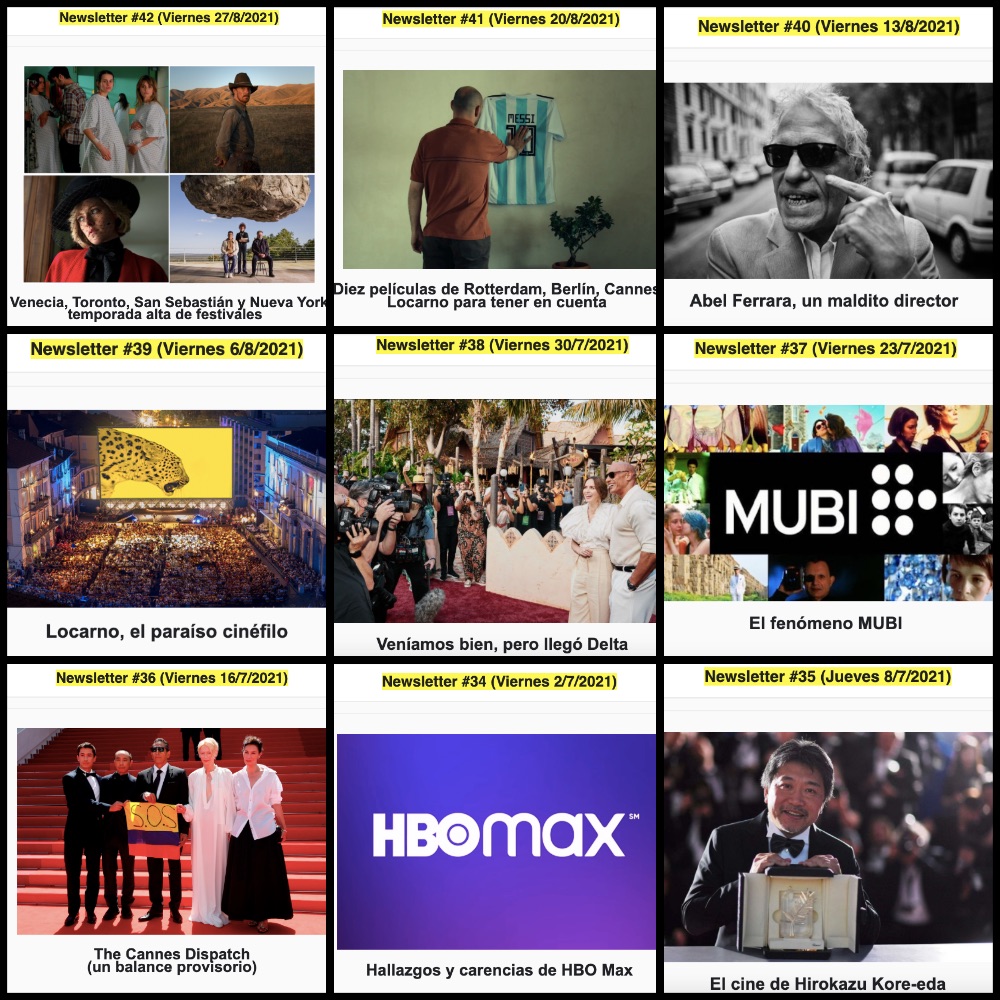 Subscriptions are the best way for readers to directly support independent journalism endeavors and help sustain a quality product.
Thanks to a contribution of just 250 pesos per month (the cost of a coffee), which is debited from any card via Payment Market, subscribers and subscribers access every Friday first thing in the morning to a careful and curated newsletter with analysis, information and recommendations.
Plus, there are other benefits (lately with streaming platforms like Noble Movies O Cinéfila Community), exclusive videoconferences and significant discounts for all our courses and workshops.
Promotion: Those who join until the end of September will have access at no additional charge to the last 20 exclusive newsletters.
For more information you can write to us at OtrosCinesClub@gmail.com
INDIVIDUAL SUBSCRIPTION: $ 250 per month
Subscribe me

INSTITUTIONAL SUBSCRIPTION (for companies and organizations that want to add their support): $ 1,000 per month
Subscribe me
---
.
Many Thanks To The following Website For This Valuable Content.
Festivals: All films + Links to our reviews – # Venecia2021