It is impossible for Miley Cyrus to go unnoticed. After that innocent and sweet image, when she starred in the series 'Hannah Montana', she was never the same again, nor could her followers see her the same. Now, he has just published a series of photographs on his Instagram, where it seems that he lost his papers in a bar, between poses and drinks.
The interpreter of 'The Climb' published some photos of her participation in the tenth annual edition of LACMA ART + FILM GALA, at the Los Angeles County Museum of Art. The event was sponsored by Gucci, in honor of director Steven Spielberg. Presumably, at a party after the event, the pop star did not hesitate to show his trademark tongue movements, while posing seductively for the lens of the photographer, Myles Hendrik.
The 10th annual LACMA ART + FILM GALA raised funds for the museum, but was also an opportunity for guests to come together, after 18 months of virtual events, Among which were Lil Nas X, Serena Williams, Kirsten Dunst, Jeremy O'Harris, Billie Eilish and Miley Cyrus, who took the opportunity to show off their most rebellious poses.
In the images, we see the artist in a floral suit, one of her favorites, from Gucci and Balenciaga. She was wearing a blazer and pants complete with built-in flower heels. In one of the poses, he is seen showing his tongue brushing a piece of lemon. In another image, she is shown sitting on top of the bar, showing her butt, and with a drink in her hand. The 'Wrecking Ball' interpreter showed part of her transgressive side at the LACMA ART + FILM GALA party, the same one that her followers love, who praised the artist's photographs.
It is no secret to anyone that Miley Cyrus has had several addiction problems with alcohol, which refers to mental health problems, which generated the pressure of her character from 'Hannah Montana'. Therefore, as soon as he could, he broke his working relationship with Disney Channel, and began to sing, he underwent a radical change, with a very rebellious and bizarre image.
Last year, the 28-year-old said she had been sober for several months, although she admitted that she had relapsed into alcohol during the pandemic.. However, after the paparazzi caught her in a bar in Palms Springs, California, drinking with three men on a bar terrace, Miley Cyrus promised that she would give up alcohol again, and that she would stay completely away from him. But the published images show a totally different reality.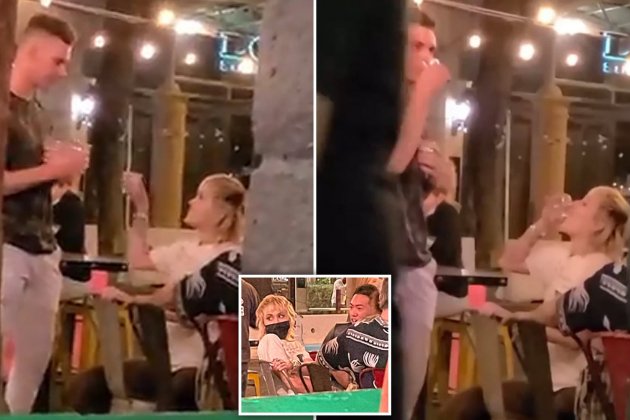 Likewise, in the case of the photographs of the LACMA ART + FILM GALA event, which he recently published on his social networks, Although it is not observed consuming alcohol, the singer appears with a drink in her hand and in a rather uninhibited attitude. Therefore, on social networks they ask if Miley Cyrus is drunk.
We would love to thank the writer of this write-up for this outstanding content

Miley Cyrus loses her papers in a bar, the photos go viral and they ask her if she has a drink