Happy New Year! May 2022 be an incredible year, filled with health, awareness and optimism! That said, how about starting a new year still with good memories of the past year? Okay, 2021 was not the easiest of years, but the resumption of red carpet provided us with good distractions, memorable looks and that were part of our traditional retrospective!
Below I share the 3 most voted from the 4 categories and I still count my favorites.
LOOK LONGO
The contest of the year consecrated the woman of the year again: Zendaya in this beautiful sculptural leather Balmain! It is worth remembering that it was a double, as the actress also won the last edition with this green Vera Wang, remember?!
I thought it deserved and very tight, this dress has a whole different design and it was literally carved in Zendaya, a look that we will remember for a long time! Just behind another unforgettable look, Kate Middleton the very sun of Jenny Packham. In 3rd, Kendall Jenner and her impeccable look that stopped the Met Ball!
MY VOTE: I agree with you and I also give an honorable mention to an iconic look: the black Schiaparelli by Bella Hadid with the golden detail that evokes a lung. The brand has been the biggest moment in fashion and this Cannes look impressed me.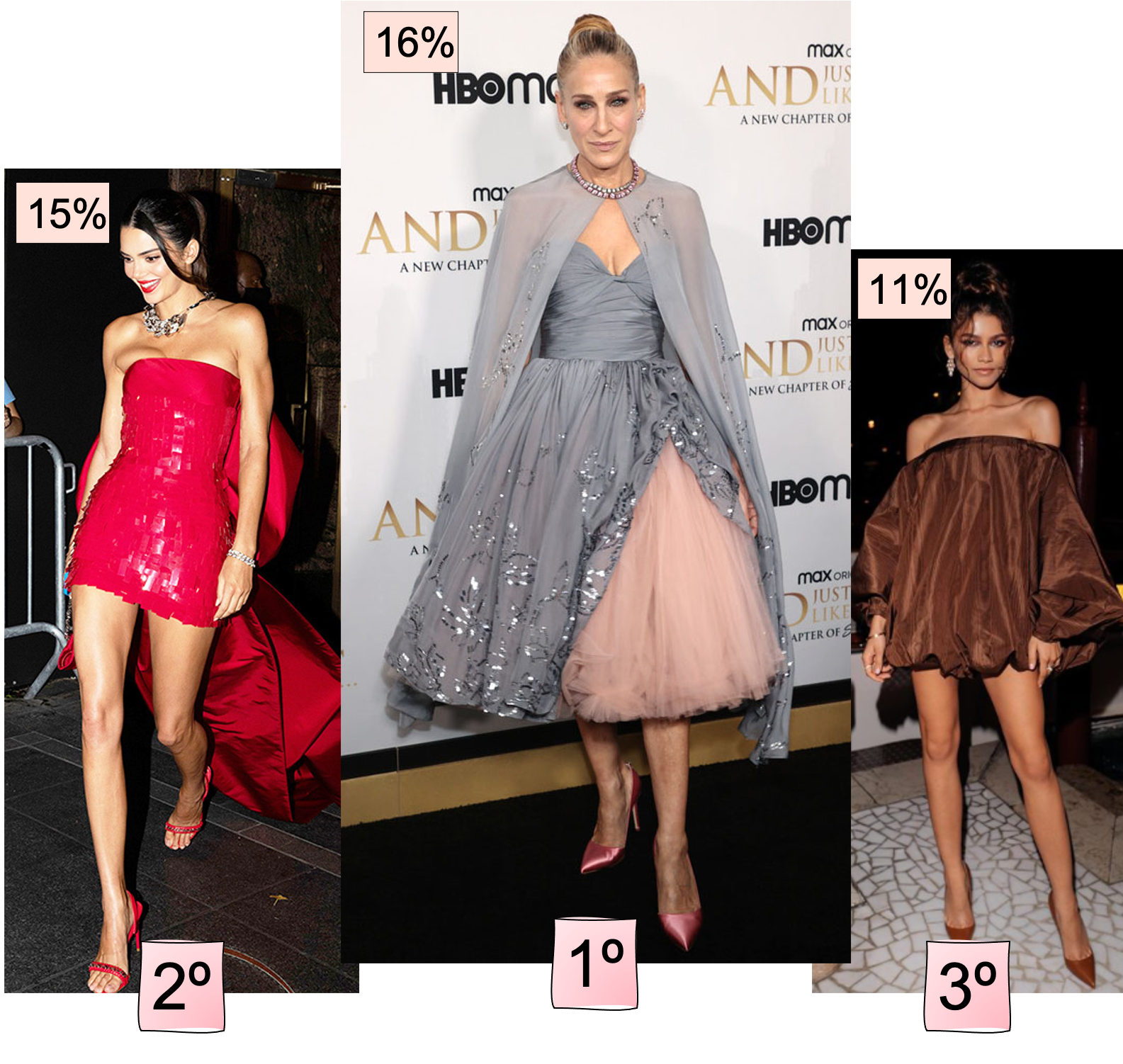 LOOK CURTO
Short looks are always adorable, fun and out of the blue! This season the dispute was extremely fierce and only ended at the end: her victory, who re-emerged as the streaming phoenix, Sarah Jessica Parker with this Oscar de la Renta tailored to her essence Carrie Bradshaw!
Right behind, Kendall in Givenchy's post-MET and a look that deserved an official photo and not a paparazzi at the end of the ballad. Running outside was Zendaya once again in a Valentino Balloon.
My vote: 1000 times SJP and honorable mention for Leslie Grace's fringed short and Di Petsa with wet look from Brazilian muse Sabrina Sato!
LOOK PANTS/COVERALLS
A fundamental step, pants and jumpsuits that invaded the red carpet in recent years! They often cause more commotion and impact than a short or long one, I think it's too beautiful!
And in 2021, taking everyone by surprise, it was her moment: Phoebe Waller Bridge, the iconic Fleabag! This Azzaro look even had the complementary impact of the cape/coat and was 100% iconic! A little while ago, Kim Kardashian and her pink Balenciaga birdie look stopped the street in NY. Still on the podium, adorable Amanda Seyfried from Miu Miu!
My vote: I confess that this one from Kim moved me, but who deserves an honorable mention is Michaela Coel, also from Balenciaga Bright Blue, at the Met Gala.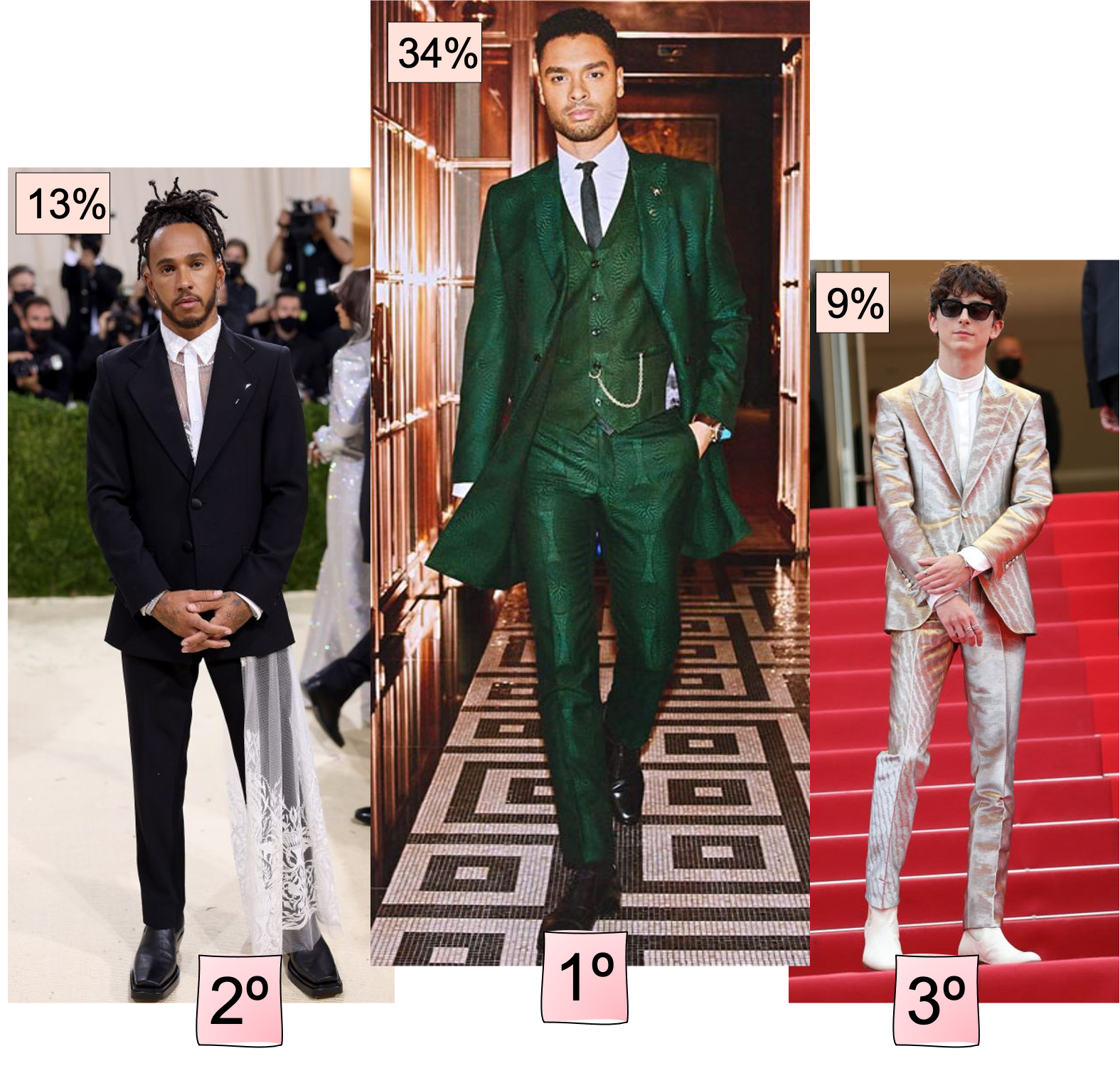 LOOK MASCULINO
In this category that proves to be the most innovative and surprising, it didn't give to anyone else: Regé Jean Page won with a lot of margin, praise, grace and elegance! That emerald green suit, the detail of the vest, the chain… sighs, what a man!
Close behind, the iconic Lewis Hamilton at the Met and Timothée ChalametALIZADO in Cannes.
My vote: impossible not to vote for Regé, but recording the excellent year of the irreverent fashionista Lil Nas X!
May 2022 reserve us more amazing and memorable looks!
We wish to say thanks to the author of this article for this outstanding content

The best looks of 2021 – Fashionism